22-2-92

Valla Beach, Australia

Message received by Kinsley Jarett


That which you call a grid and which you saw through the eyes of the Higher Self can not be seen by the ordinary eyes for although as human beings one's eyes are suitably equipped to function within a wide range of frequencies, they are nevertheless limited to the ultra-high ranges in which we exist. This is why most of our craft and ourselves seem often to be invisible. Yet we exist in what is to us quite a wonderful realm of existence. Had we not wished to be revealed to you, and even though your perceptiveness had been raised, you would have been unable to see the image or record the activities. We have allowed this to be documented so that such activities may be shared with your closest friends according to your discretion. It has already been known that a so-called grid system has been positioned in this locality. It is an extension from the common grid, which circles the Earth. This network has been placed under water and within the Earth aeons ago and is constantly under repair. This is a requirement brought about by the continual advancement of Earth 's technologies and due to the earth movements. In brief, the main purpose of the grid is to enable our craft to more easily track accurately to any mapped position on the Earth globe, whenever the urgent necessity of our presence is required, whether this be requested by Humans or not, for we take our commands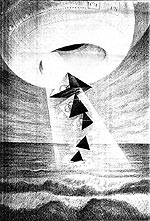 from the governing Universal Spirit Source. We have placed ultra-sensitive equipment upon certain grid locations, which you have envisaged as pyramid shapes. These adhere to the grid sections using our form of electro-magnetic force fields, which transmit information to us on matters, which would be of little interest to you or any Human Being at this time. Let us assure you however, that because we are in service to the Divine Source, no harm will be caused. All of you are dearly loved unconditionally and it is the hope of all that before too long, in your linear time, we will become united caring for each other, the cetaceans and for all of the creatures of life upon the glorious globe of Earth.


We bless you and thank you for your continued interest


---
We greet you again. Further to previous light information may we add that changes are taking place upon the earth throughout all the dimensions as high frequency energies are now more obviously affecting all Creation and it is wise for one who is so awakened to be in harmony with such changes. You are part of the integral Universal plan. The vortexes provide greater energies to the earth and likewise within your own energy centers when you are in alignment with the Consciousness. This will cause the release of limitations and create a greater sense of freedom from such densities. These vortexes also help in our transmission and transportation for we are another part in the important transformation years.


All we require of those who are awakened is that you send out your light and love.


In this way we will all eventually return to the truth of all that is and become citizens of the Universe together.
---
March 5, 1992
We greet you all again dear lights and realize that there are some questions in your minds regarding the portrayal of that which was seen through the heightened consciousness of the artist.


Our answers are befitting for this time, and the image being one which we hoped to successfully project, was transmitted from our memory banks in such a manner which would allow for its strength of imagery to be seen within a similar environment to the original. This occurred according to your time reckoning many, many years ago, or if you like, during the period when Lemuria had subsided.


The image is most meaningful to us, for it records an historic moment when we had the pleasure of making our acquaintance with the race of dark beings whose present relatives you refer to as aboriginal.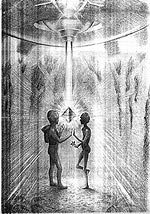 Some of their ancestors of course migrated from Lemuria much earlier. The image portrays the symbolic exchange of gifts from the universal space beings to the beings of earth and vice versa.


Of course, contacts had been made a millennia before this and indeed there were races of beings who allowed us into their cultures.


There were those of us who actually desired to experience before attempting such a merger again.


However, we have continued to care for the hu man, the God man being and in this present day and age of enlightenment are making ourselves known again, especially to those of you who are open and willing to know truth and experience a broadening within your dimension. This is a slower process but a far more spiritual one and eventually it will be successful.


Those of you who aspire to the Christ consciousness within you and activate it daily in your lives will be among the sensitive beings with whom we and others akin to us will make contacts in various ways.


There is no urgency or cause for alarm for everything is designed and destined for the full expression of love which passes all understanding. All will take place and form in the Creator's time through each of us universally.


We are near to you all with unconditional love and we thank you for your interest and bless you for being who you are.